Join the party with Kenzie and Scriptor!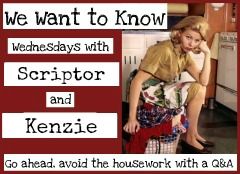 1.) When was the last time you got unreasonably mad and why?
I'm sure I get unreasonably mad at The Agent and my kids daily, but nothing comes to mind. So I just asked The Agent, and he said I got mad at him on Saturday. OH! That wasn't unreasonable at all. The Agent was supposed to take the Dumb Dog to the vet for her shot appointment, and 20 minutes before the appointment he said he wasn't going to go, and we should just no show. No, that is not what responsible citizens do. So I had to drop what I was doing and take the stinking dog to the vet. And then I had to rush home to take Bug to a birthday party, so I said to The Agent, "Because I had to take the Dumb Dog to the vet, I didn't do the grocery shopping. I need you to do it while I take Bug to this party." So Bug and I went to the party and came home 3 hours later. Did he go to the store? Heck no! Not only did he not go to the store, but he didn't give BK a nap, and he didn't even give him lunch (it was 2 pm by the time I got home). So yes, I was upset. Unreasonably so? I think not.
2.) Tell us one person you cannot stand.
My girlfriend's husband. He's such a pig. My girlfriend looked through his phone and found a bunch of text messages between him and another girl, him saying she should send him naughty pictures of herself and they should go to Vegas together and whatnot. I honestly believe that he was shamelessly flirting with this girl and nothing would really come of it, but I just think his behavior is so disrespectful to my girlfriend.
3.) List two things that humans do that piss you off.
a) lie about the injuries they sustain in car accidents
b) people in general who try to get away with things that they KNOW are against the rules
4.) What was the last lie you told?
Thinking... I told an attorney today that I should have an offer to him by the end of the week. I have no intention of having an offer ready for him this week.... maybe not even this month!
5.) Name one thing about yourself you would honestly change if you could.
The way I look. Is that too general? My pant size. My current goal is to be a size 8.