Starting weight: 229
Last week's weight: 228
This week's weight: 225
Gain/loss this week: -3
Total loss: 4
I think I need a new scale. I weighed myself three times this morning:
1st: 230. Heck no, that can't be right.
2nd: 225. That's much better.
3rd: 228. Probably the most accurate.
But how do I know what's right? I need a more reliable scale. Off to Wal-Mart I go.
But I had wonderful week, so that's why I'm choosing to believe that I lost 3 pounds. I drank tons of water (3 of the days I drank 100 ounces, the other days I drank between 50 and 100). I took the stairs of 6 flights and back down again twice (I should have done it more, but either I was off work or my walking partner was off the rest of the week). I made smart food choices.... well, smarter than I have in the past.
My closest bosom friend from high school recently commented that she lost 50 pounds in the last 3-5 months, and gave me the information of the diet plan she was using. I'm all about losing 50 pounds by the summer, but the diet involves meal replacements, which I know The Agent won't approve of, and it's pretty expensive: $300 a month. I will have to think about it some more before I make any decisions.
I'm Linking here....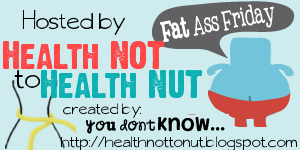 and here: