This is going to be THE night! Let's get to it!
The first date goes to Ben: Let's make today unforgettable.
They get in a row boat, and row to a private island where they play a game of hide and seek. They have serious and deep conversations, mixed in with the fun and silliness. He says that he fears that he is unlovable.
Oh, Ben. You're campaigning for The Bachelor now, aren't you? I don't even care, I love him.
He says he's falling in love with her, and she says she's falling in love with him. Swoon. But then, she blows it. He says he is excited about the overnights, not about the physical portion, but just at the thought of spending all night talking off camera. And then her response is:
Seriously? Are you that messed up in the head that if a guy respects you enough to want to just talk to you, you think he must be a virgin? Crazy!
The group date has Shawn, Nick and Joe: "Let's let our love run amuck." Kaitlyn took Shawn off by himself first. Kaitlyn feels like she needs to tell Shawn that she had sex with Nick, probably because she knows it's inevitable that Shawn is going to watch her exploits on TV. But before she could spill her guts, Nick came along to interrupt. Their time was uneventful. Do they have anything in common other than their lips?
Joe has the next one on one time. He's so romantic. He says he can kiss her, and only her, for the next 60 years and be completely happy. He's sweet and cute and looks like a good kisser, but you can tell that Kaitlyn's not feeling it. She says that she's not in the same place as him, but she's not ready to let him go.
brokenhearted
But then maybe she is. She hugged him goodbye and walked away. Poor Joe.
Kaitlyn goes back to Nick and Shawn, and says that she's not ready to give out a rose. She sends Nick back to the hotel, saying she'll see him at the rose ceremony, but tells Shawn that there's more that wants to discuss with him, so she'll see him that night.
Shawn is doing cartwheels in his head. Little does he know what Kaitlyn wants to talk about!
I will say this: Kaitlyn is doing the right thing by telling Shawn what happened.
Shawn is crushed. He says he needs a minute and then goes to hide in the bathroom.
He comes out some time later, visibly changed. He's glad that he told her, he says she knows how he feels about Nick and she knows how he feels about her.
He's mad, but he says she's worth fighting for.
I call BS. She is not worth it. You can do so much better, Shawn!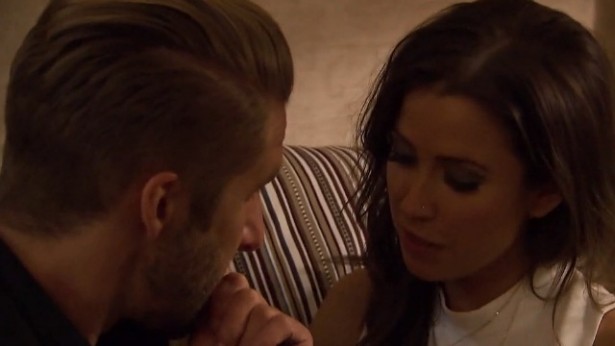 brokenhearted again
Now he has to go back to the hotel, where he wants to beat down Nick, but he keeps his cool and keeps their conversation private.
Nick doesn't know that Shawn knows, and I think that puts Shawn at an advantage.
Chris Harrison makes an appearance, and says that Kaitlyn doesn't need a cocktail party. It's go time.
Jared is nervous because it's been so long since he's seen her. Nick is nervous because he's realizing that all they have in common is the sex. Shawn is nervous because he doesn't want to stick around if he's not the one.
It seems that cutie Ben is the only one who's not nervous.
Shawn.... but he says he needs to talk to her. He says that he doesn't understand why she would jeopardize their relationship when she has told him that he was the one.
Kaitlyn says it was wrong to tell Shawn that he was the one. She's exploring other relationships, because once this is over, she will be done exploring relationships forever. She says he has to trust her.
OK, back to the rose ceremony.
Shawn
Ben
Nick
These are the three guys who are going on the overnights.... and Jared is going home. And even at the end, Jared offers Kaitlyn his jacket. And Kaitlyn cries more than she ever has over sending a guy home.
But there's no time for tears! The overnights are here, in the romantic setting of... Ireland. Again. Seriously, is this a budget year for The Bachelorette? They couldn't spring to send the guys to couple of other places?
Nick has the first overnight date. They hang out and drink in a bar and chat with some old Irish dudes. And then have dinner at an old abandoned prison, and Nick promptly throws Shawn under the bus, saying that Shawn is bragging that he's Eskimo brothers with someone because they both had sex with the same girl on the same night.
There's a name for that? Eskimo brothers? Really? Gross. And why you gotta throw Shawn under the bus like that?
It's time for the overnight part of the date, and it's in one of the jail cells. I was laughing my butt off, until Kaitlyn says it's just a joke.
Bummer. It would have been awesome if that was the real fantasy suite!
The fantasy date is uneventful.... apparently, they didn't have sex again. But Shawn is still trippin', and he chugs on down to Nick's hotel room to have it out, and they argue like four year old boys.
To be continued!