We made it! The season finale of The Bachelor is finally here!

Clare and Nikki are the final two standing, and they get to meet the family today. I had a running argument in my head all evening:
*

I hope he picks Nikki so we can see Clare go off her rocker crazy.
* I hope he picks Clare so we can see Nikki go off her rocker crazy.
* It really it doesn't matter who he picks. They're both off their rocker crazy
.

Followed closely by:

* Holy crap, I need to stop reading my twitter feed! All of America is pissed at JP!
Clare meets JP's family and it's uneventful.
Nikki meets JP's family and it's uneventful.
JP's family warns both girls that JP can be a hard man to love. When even your boyfriend's mama says there's going to be problems, you need to run. RUN!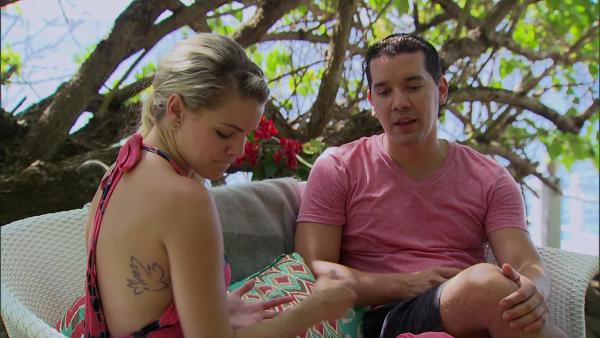 JP's cousin is hoping to pick up the sloppy seconds (link)
JP asks if he can keep both girls. No, I'm sorry. You cannot.
The Bachelor has a panel of "famous" members of the bachelor family: I see Des and Chris, Sean and Catherine are there, the dog lover... the consensus is that JP is a d-bag.
Clare has her last date with JP, which promises to show "something you've never seen on The Bachelor before." Please stop lying to us, Chris Harrison.
But wait! It;s finally getting good, my friends! In a rare moment of no cameras and no audio, JP whispers to Clare that he doesn't really know her that well, and then he says something sexual and offensive that, according to Clare, "no woman wants to hear."
WHAT DOES HE SAY???
The Agent thinks he whispers, "I know we don't know each other that well, but I want to F you so bad right now." Possibly. It fits all the criteria. But Clare is upset. Is he in it just for the nookie? Clare is in it for love, not just the sex.
Clare, you just redeemed yourself. Score one for the hometown girl!
Clare tries to talk to JP about her feelings, and just like with Andi, JP kept asking for a kiss. ARE YOU EVEN HEARING WHAT SHE'S SAYING??? No, he doesn't get it. It's impossible for him to be with anyone with even half a brain.
JP is able to calm Clare down with promises of babies. He says that she will have a baby in one year and two months after they're married. Oh my. Even the Agent was saying, "Man, this guy is such a dick!"
Nikki has the date with JP. She wants him to open up and say some of the things she wants to hear, (ie "I love you.") but when she questions him, he answers with, "I'm not guarded. When I feel something, I'll be open." Excuse me, WHAT? You might get engaged tomorrow! Maybe you should have some feelings by now!
Even later in the date, Nikki's trying to talk and she says, "I don't know..." and JP says, "I don't know either, and that's the worse part." HELLO! You don't know??? You're going to get engaged tomorrow, and you don't know???
Nikki is upset that he can't tell her how he feels and she cries. He doesn't even notice. D-bag.
The next day is proposal day, and Clare is the first one out of the boat. Statistically, the first one out is the loser. They didn't change the formula this time, either.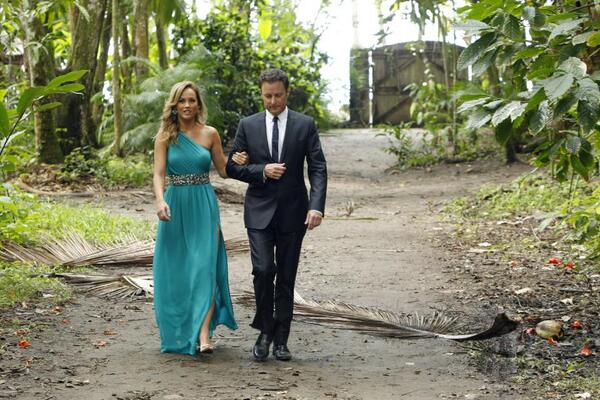 off to meet her fate (link)
She is rightfully pissed. She tells him off. "After what you just put me through, I would never want my children to have a father like you." Amen, Clare.
And then dick JP says, "Wow, I'm glad I didn't pick her!"
OK, now it's Nikki's turn. He picks Nikki, but he doesn't give her the rock. He says "I'm not 100% sure I'm ready to propose, but I'm 100% sure I don't want to let you go." He also says, "I really REALLY like you."
Ugh. Apparently, that was good enough for Nikki. She accepts the rose. The end.
AFTER THE FINAL ROSE
Clare comes out first, and she doesn't have anything that she would like to say to JP. He wasn't the man she thought it was, but she's moved on. This is the classiest move she's made since coming on the show. There's nothing to say.
JP has his chance to come on the stage and give his side of the story. Honestly, he didn't make any sense to me at all.
Nikki comes out next (without JP). She says they're still together, and they're happy, but he has not said he loves her (yet). This is a side of Nikki I've never seen. It's obvious now that Nikki lacks self esteem. She acted like a witch with the other girls as a defense mechanism, but she really doesn't think that she deserves anything better than the love JP is giving her. Very sad.
I'm sure there's more, but I need to go to bed now. But first, we have to announce the next bachelorette:
Congratulations, Andi! Please make The Bachelorette a better experience! (link)